Contains affiliate links to products I love ♥ See my full disclaimer.
When I first began designing our farmhouse dining room, I was feeling a bit hamstringed when choosing a rug. There are tons of beautiful neutral farmhouse rugs, and I love the look of jute and sisal rugs that perfectly embody farmhouse style. BUT I have cats and I'm sure they'd be thrilled if I brought home what they assumed was a floor-sized scratch pad…
I explored some other options and fell in love with the antique look of Turkish rugs. Of course, actual antique rugs are even more stunning, but I wasn't willing to risk ruining an antique with spilled food. The reproductions are beautiful and fit in well with a traditional or modern farmhouse look. I picked so many favorites that I thought I'd share them with you all!

1. Loretta | 2. Kerensa | 3. Newburyport | 4. Tremont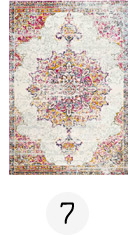 5. Brandt | 6. Potter | 7. Darchelle | 8. Rindge


9. Elson | 10. Amhurst | 11. Hillsby | 12. Gaines


13. Simons | 14. Kerensa | 15. Abbeville | 16. Issa


17. Salena | 18. Luxury | 19. Peyton | 20. Koury


21. Amy | 22. Elson | 23. Soren | 24. Caton

25. Ischua | 26. Zander | 27. Abbeville | 28. Allenvale


29. Jae | 30. Pittsboro | 31. Hillsby
Inspiration for using beautiful Turkish rugs as part of your decor
Beautiful Turkish rugs can be used in any type of decor—from rustic farmhouse to sleek modern. I used to think a rug was just something to throw on the floor to protect it from chair legs and dog nails, but so many of these designs almost look like pieces of art and they add so much warmth and character to any room. In fact, I have so many favorites that I'm a bit sad I don't have more rooms to use them in!
White shiplap walls, breezy white curtains, and beautiful neutral furniture make for the perfect farmhouse living room, and I love the idea of using an ornate Turkish rug for a pop of color and an added layer of traditional style.
The rug in the photo above as well as the rug pictured below both have a traditional look with a modern spin to them—they blend a timeless design with a modern color scheme.
I'll let you in on a secret. This rug is one of my absolute favorites. I just bought it for our farmhouse dining room, and I will admit that I was nervous at first if it would would go with our farmhouse look. But it turns out, I didn't have anything to worry about because the colors are neutral enough to go with the rest of our decor, and the antiqued design looks amazing with our old farmhouse look!

A more colorful option could work well in a neutral space.
Colorful rugs (like this one!) can also be a great way to add some fun and whimsy to a nursery, kid's bedroom or playroom while still looking sophisticated.
I'm in love with this blush toned Turkish rug, and I have my eye on it for my someday dressing room! I originally wasn't planning on putting a rug in my dressing room, but there are so many pretty options that it's hard to keep a floor uncovered…
Which one is your favorite?
Pin for Later!
↓
More in Farmhouse Decor: